Cowan Insurance Group is excited to bring you our annual Guide to Canadian Benefits Legislation, offering a high-level description of Canadian government programs and legislation, eligibility, and how benefits are determined.
Dates, charts, percentages, numbers (min/max, dollar amounts, or basic wording changes) have been updated to reflect 2019 data and information, making the guide an ideal resource for Canadian employers, as well as global organizations with a Canadian presence.
For expert benefits advice, contact a Cowan Insurance Group consultant.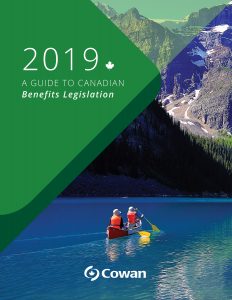 Ease of Access
The Guide is extensively bookmarked to increase ease of use and navigation. Download your personal copy of the Guide (.pdf – English only) here and open them using your preferred Adobe (or compatible) PDF reader to view bookmarks.
The Legislative Guide is available in English only.
Accessible version available upon request.